AdaptEar® is a discrete device that plugs in line between a walkie talkie or other sound source and your earpieces. It allows you to set the output level to suit the sensitivity of your earpieces and, once adjusted, AdaptEar® provides protection against high levels of sound.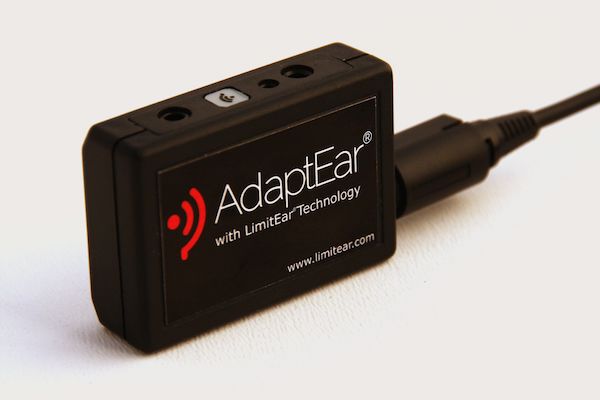 Connects
AdaptEar® has a range of adaptor leads available to allow connection to a wide range of equipment. It has two inputs, a 6-pin latching Mini Din primary source and a 4-pole 3.5mm jack Aux In for a secondary source which enables you to monitor two sources simultaneously, for example two PMRs, a PMR and an MP3 player or a PMR and a Smartphone. The 4-pole 3.5mm jack Aux In allows two-way smartphone conversations and control with suitably equipped earpieces. AdaptEar® also provides a return path for a microphone to the device that is connected to the Mini Din primary input.
Protects
To provide accurate protection, you set the sensitivity switch on AdaptEar® before use. This matches the output level from AdaptEar® to the sensitivity of the earpieces you are using, and your intended listening period. Providing you with the ability to change the sensitivity allows you to set AdaptEar® for use with different earpieces, for example some AdaptEar® users have generic earpieces for low ambient noise conditions, changing to custom moulded in ear monitors for high ambient noise environments.
In operation excess signal levels are limited and cause the limiting light of the AdaptEar® to illuminate, not only informing you that limiting is taking place but also that you might be advised to turn down the volume of the source. This feature also lets you to test the unit is operational before use.
You can check your device compatibility using the AdaptEar® Compatibility Calculator.
Read the AdaptEar FAQs.