HearAngel®  is an innovative smartphone app that measures your exposure to reproduced sound through your headphones or earpieces to enable you to listen as loud as is safe for as long as you want.
There are two versions of the app, one for you to manage your own exposure and another to enable you to manage and control your children's exposure.
Unique, patented, technology learns how much and how long you have been listening and provides you with information so that you are aware of your exposure levels so you can manage them if you wish.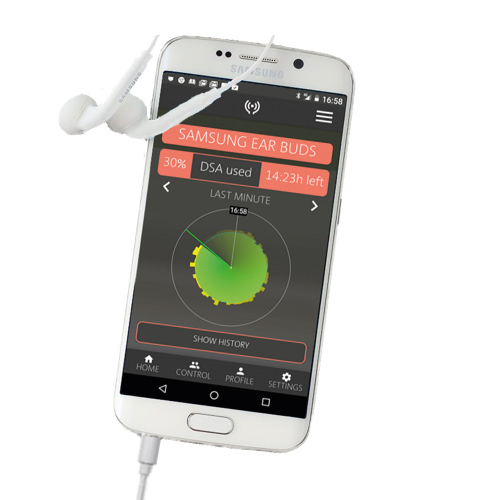 If you want to be automatically protected you can set HearAngel® to intervene and manage your listening experience within the recommended safe exposure levels.
At birth you (and your children) have 15,000 auditory hair cells in each ear; you don't get more and when they are gone they are gone. Exposure to large sound doses destroys your auditory hair cells and permanently damages your hearing. The biggest source of large sound doses for most of us is from the recreational use of headphones and with the exponential growth in digital media (which requires us to use headphones more often for longer) the risks of you or your children suffering from noise induced hearing loss are rapidly increasing.
Deafness Research UK research states that "1 in 3 of the population under 35 has chronic permanent hearing damage as a result of using headphones for music and gaming that is irreparable and irreversible"
HearAngel® is an easy to use solution to the problem, it continuously measures the listening period, the content and sound level automatically, to build a profile of your hearing exposure and presents the data, in the form of alerts, on your Smartphone. You then choose what action to take. The child's version manages their hearing in line with the settings that have been chosen by their parents or carers.
Using HearAngel does not affect the quality of sound you hear and is unobtrusive, simple to use and the highly effective way to manage your hearing health.
HearAngel® is an app being developed by LimitEar, the inventors of a number of radical new technologies to protect the hearing of professionals and consumers alike using proven, patent protected algorithms, developed originally for use in the professional broadcast industry.
You can share data gathered by the app using social networks and it can be combined with other health monitoring data using standard protocols to help to provide a comprehensive picture of your health.